Founded in 2007, CPP Sydney, Australia, was the first office outside of the U.S. for CPP Wind. With a state-of-the-art wind tunnel and laboratory, and some of the most innovative experts in their field, the Sydney operation has played a leading role in transforming Australia's city skylines and establishing a commanding presence in Southeast Asia. However, as with every great success story, the CPP Sydney office's journey began with an uphill climb.
To properly celebrate this 15-year milestone, we go back to the beginning.
With the help of founding members, Dr. Matt Glanville, Founding Director, and Peter Bourke, Managing Director, we look back at the drive, expertise, blood, sweat, and tears of a skeleton crew (and a kitchen table or two) that built this operation from the ground up. We celebrate how this team's perseverance through challenging years helped advance CPP Wind's global market presence.
The strategy behind the Sydney office was to address two key areas: CPP was ready for international expansion, and internal generation gaps created the need for a succession plan.
Dr. Roy Denoon had joined CPP a few years before and was developing its international presence, having worked in Australia previously. He knew Matt from postgraduate studies and Dr. Graeme Wood (the other founding Director of CPP in Sydney) from both undergraduate engineering studies. He had initially introduced him to the field of wind engineering. Glanville recalled, "Roy saw the rare potential to build an international office from scratch. With founders with pre-existing wind engineering experience and well-known in the local market. It was also extremely convenient from a growth perspective that we were in Australia. The local market well understood the need for wind engineering since the subject is taught in several universities, where CPP hadn't had much market penetration at that time."
Peter Bourke was the third founding member to join the start-up team. As the current Managing Director, he initially came on board as a project engineer, taking the lead in designing the facility's wind tunnel and laboratory workshop. As one might imagine, building a wind tunnel is no small feat. "Wind tunnels aren't something you can purchase or even buy an existing design. It's so niched that we needed to design it, then find someone who could, and would, build something they likely didn't understand and certainly hadn't ever built before," says Bourke.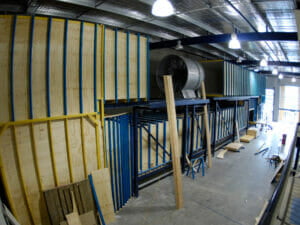 The first step toward getting the company off the ground was finding a location large enough to house what would eventually become a three-stories high, 40-meter-long wind tunnel. Bourke says it was an unforgettable journey, designing a one-of-a-kind, state-of-the-art wind tunnel from scratch. He said, "Before joining CPP, I'd been doing a lot of work in computational fluid dynamics (CFD), which, to this day, is one of CPP's specialties. That experience equipped me with a knowledge base in the tunnel's design process; to conduct computer simulations of how it would work."
The design, which began in mid-2007, took about seven months to complete before construction could begin. By August of 2008, the team was ready to start testing its first engineering studies. Bourke recalls the challenges of the design, construction, and testing phases. "Because we were a skeleton crew of about five or six people at the start, we were all very hands-on. We had to be. I was personally running wiring, building things, machining things, helping to install everything, and directing every little piece of it. There was a construction company on site. But because this was a project, unlike any they'd built before, there was a lack of understanding about what was okay when building a wind tunnel. It's not like constructing an office building or a house," he said.
Once construction was completed, we spent weeks calibrating measurements and multitudes of tests before the tunnel was ready to be utilized for client projects. The timing, unfortunately, coincided with the Global Financial Crisis (GFC), leading to new challenges for the CPP Sydney team.
Glanville, whose role was to develop the market and establish a market presence, recalled the temperature of the economy at the time, "Just as we were ready to hit the ground running, the GFC slowed down the Australian building market and brought our plans to hire additional staff to a halt. With our handful of staff, we shifted our focus to Southeast Asia. We secured several large tower development contracts in Malaysia (Platinum Park, Ilham Tower, which is now our Kuala Lumpur office location), Singapore (Singapore Sports Hub), Indonesia (St Moritz and Kemang Village), and Thailand (Landmark Tower). We also took on Australian government stimulus hospital projects in Western Australia (Fiona Stanley Hospital with Multiplex) and New South Wales. We developed many enduring client relationships during that time, which helped secure our presence in the region today. We certainly value the support from key clients during the early days, particularly Frasers on One Central and Lend Lease with Barangaroo, Darling Harbour, and many developments across the region."
The GFC, Glanville says, was the motivation to move into the Southeast Asian market, which CPP continued to focus on when Oliver Napp, Chief Executive Officer, came aboard in 2013. Napp could see the potential in that region and develop strategies to maintain what CPP had already achieved and expand on it. Napp placed engineers in those markets to provide local representation for CPP Sydney. Today, Max Lee heads the Kuala Lumpur office, Bhami Ilyas is in Dubai, and Venukumar Balla is in Mumbai. Glanville says of this strategy, "It doesn't matter where you are; we are one global team with representation in virtually every time zone, available to provide real-time response to client needs."
In 2018 Glanville became Vice President of Business Development, Australia and Asia Region, and Bourke took on the role of Managing Director. By this time, the economy had recovered, the Sydney office had a team of about 20 people, the proper foundation in place, an efficient operation, and positioned for growth. It also worked more collaboratively with the U.S. operations, assisting with their workload. Bourke says changing that strategy was a significant contributor to the development of the Sydney operation and its ability to build a team that continues to advance the presence of CPP globally. "One of the attractions of having a global presence is the ability to push resources to where they are needed. . That was the original goal back in 2007," said Bourke.
As we celebrate this 15th anniversary, Glanville and Bourke say they're happy to have gotten past those early days and challenges but don't want to forget the importance of that teamwork and perseverance. "Yes, we had limited staff. Our roles were limitless, with people even working at their kitchen tables initially, just trying to get things off the ground. Whoever was available to build models, run tests, or do whatever needed to get done, just did it. Everyone chipped in to do whatever was needed to help get the testing complete and the results to our clients. That's how we've acquired the knowledge that we have. That's why I can walk through the lab and help, guide, and offer relevant input, because I've done all those jobs, and Matt has too," said Bourke.
Glanville notes, "The reason for our early success is shared with Peter, Graeme, Mick Chay, Leon Gillet, Ruby Dela Cruz, and Michelle Warnock; we worked tirelessly during those early years with the support of the U.S. office. Though Graeme is no longer with CPP Wind, he was invaluable in the start-up. He got the credit for servicing and developing the local precincts initially." Acknowledgment also to contributions from John Glanville (father) and Steve King (UNSW) during our formative years.
The Sydney office is currently undergoing an expansion to meet its growth. When complete, the updated facility will have twice as much office space and three times as much laboratory space (and no kitchen tables in sight). The added space allows the construction needed to increase laboratory capabilities. CPP Wind can turn projects around more quickly, increase its capacity for new projects, and expand general experimental capabilities and service offerings.
Please join CPP Wind in celebrating 15 successful years in Sydney, Australia office!