After operating without a president since founder Dr. Jon Peterka's retirement in 2013, CPP, through its Board of Directors, has unanimously chosen Dr. David Banks to fill the role.
Banks brings strong on-the-job experience and academic credentials to the position. He earned his undergraduate and master's degrees in aerospace engineering from the University of Toronto. In 2000, he went on to earn his PhD in Fluid Mechanics and Wind Engineering from Colorado State University in Fort Collins.
As a disenchanted aerospace undergraduate, Banks spent two summers interning at a CPP competitor where he developed a passion for the subject matter. When he learned CPP was hiring around the start of the new millennium, he signed on.
"CPP was founded by professors, and my initial projects were research focused," said Banks, "so, fresh off my PhD work, I found the environment similar to post-doc work. Jon took me under his wing. What a marvelous mentor."
Through a progression of job titles — Senior Engineer, Associate, Senior Associate — Banks cut his teeth on diverse projects: natural ventilation, pedestrian comfort, wind turbine design, the effects of wind on atrium smoke control and door operability, CFD simulations, and more. Then came solar.
"Around 2007," Banks recalled, "we started getting more inquiries about solar, which caught my attention. Best of all, my supervisors noticed it caught my attention. They gave me the freedom to sink or swim on my own. Within a few years, I was leading a small group."
"We learned a lot about David through his success with solar," said Oliver Napp, CPP's Chief Executive Officer. "He's modest in describing his achievements, but I'm not. He not only grew the solar business within CPP, he tackled and fixed major issues that, consequently, advanced the entire industry." Banks has directed roughly two hundred studies of different solar products and has become a globally recognized authority on solar wind loads.
"David's unique brand of entrepreneurship — intrapreneurship, if you will," CEO Napp added, "is what we'd like to foster throughout the entire organization." As early as 2014, the Board of Directors saw potential in David to be CPP's next president.
Organizational evolution
"We have long valued seniority at CPP," said Napp, "and we always will, but we need to evolve toward a more merit-based system, rewarding those, like David, who show leadership and produce results regardless of tenure with the company."
Banks shares Napp's philosophy. "Some engineers won't be satisfied with waiting for a project to be assigned. Instead, they ask, what can I own? How can I provide customer value?" Banks views growth as a natural product of entrepreneurs succeeding from within. "I want to encourage such an environment, opening doors for team members who show that kind of initiative."
Markets, clients and growth potential
Over the past few years, David's team has substantially grown CPP's solar business, with more potential ahead, especially with the ideal customers. "There's a temptation among some clients," said Banks, "to insist on lower loads in order to speed time-to-market, but that can be shortsighted. We're looking for clients who understand and value the right number, not just the lowest. We want to spread that message within the company and throughout the marketplace."
Meanwhile, CPP's other markets show potential based on their distinct characteristics. In contrast to the lab and data center markets, which have seen more innovation recently, tall-building innovation has been slower. "There's been too much commoditization," said Banks, "which we can disrupt by diversifying our services in the tall-building space."
Napp added, "David has a remarkable ability to see one or two years ahead of what the market needs."
Leadership style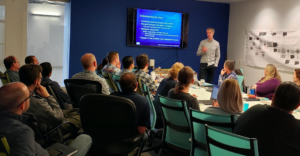 "I learned early on," said Banks, "you can only do so much on your own. You must surround yourself with capable and motivated people." He sets as a goal for his tenure to ensure the CPP team has the resources and feedback they need.
Banks views Dr. Peterka as a role model. "He was perpetually busy, with this intimidating to-do list of things he was working on, but he always had time to stop and talk. I came away from those meetings more motivated, focused and determined than before." Banks aspires to Peterka's style of mentoring.
When asked what excites him about his new role, Banks didn't hesitate. "When you can offer a new service or fundamentally improve a service, and then find a champion from within to bring it to fruition, that's exciting."
Voices from across CPP react to Banks' selection

"David's appointment as President reflects CPP's history and continued commitment to be the acknowledged technical leader in the field of wind engineering. All of us look forward to supporting him in his new role." — Roy Denoon, VP, Director, board member

"David is an accomplished leader. His industry knowledge and renowned technical expertise makes him the perfect fit to be President of CPP working in partnership with our CEO and the Board." — Tom McGimpsey, board member

"David is a brilliant engineer and visionary — open, accessible, and authentic. He has a strong vision for our markets and a unique talent for authentically communicating that vision to our engineers." — Oliver Napp, CEO