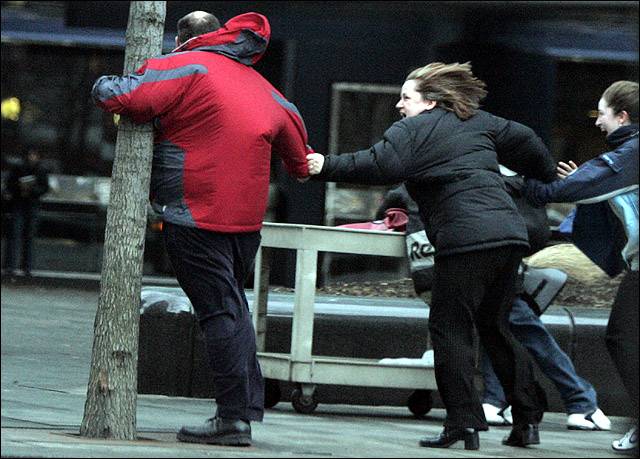 It can get a little breezy in CPP's hometown of Fort Collins, Colorado. With average wind speeds approaching 40 miles per hour (18 m/s) on some days, and gusts in excess of 45 (20 m/s), walking around town isn't always a walk in the park (even when it's a literal walk in the park). These winds lead us to thinking about breezy locales and the special considerations that city planners include to ensure safety and comfort.
Chicago's nickname is the Windy City, and while it's true that urban canyons between the city's iconic skyscrapers can transform mild breezes into localized gales, the moniker is actually a reference to the city's famously boisterous politicians. Among large American cities, Chicago doesn't even warrant a spot in the top ten.
If it's wind you're after, head to coastal cities of the Northeast like Boston and New York in winter, and then travel west to San Francisco for the summer. In fact, these three cities have such unique wind climates that building in them requires a special wind study.
San Francisco's location between the hot Central Valley and the ocean makes it ripe for windy days. The City by the Bay is surrounded on three sides by water: The Pacific to the west, the Golden Gate to the north, and San Francisco Bay to the east. The cooling effect of large bodies of water provides a counterpoint to heating in California's Central Valley, setting up a temperature (and therefore pressure) gradient, and drawing air through the Golden Gate. Wind is a natural consequence of this effect, and its significance is reflected in the provisions of the San Francisco Planning Code, which establishes criteria for wind comfort and hazards.
Bostonians and New Yorkers can thank their positions on the Atlantic coast for their windy reputations. Powerful offshore low-pressure systems like Nor'easters conspire with the cities' grids of tall buildings to push large volumes of air through comparatively narrow spaces. It's the same wind tunnel effect that plagues Chicago, but the driving winds can be considerably higher.
Article 80 of the Boston Zoning Code, implemented by the Boston Redevelopment Authority in 1996, requires that all new development undergo a study to quantify wind effects, not just for the proposed structure, but for conditions at ground level. Meanwhile, New York is so windy, and has such unique urban topography, that city planners specify a custom wind code for the city that goes beyond the typical provisions of ASCE 7-10.
Wellington, New Zealand, is widely regarded as the windiest major city in the world, with an average wind speed of more than 16 miles per hour. It owes that status to its position on the Cook Strait, between the north and south islands, which once again, creates a sort of wind tunnel through which ocean breezes strengthen.
Other blustery locales around the world include Rio Gallegos, Argentina; Punta Arenas, Chile; St. John's, Newfoundland, Canada; Perth, Australia; and Yigo, Guam.
As for the highest wind speed ever recorded? That honor goes to Barrow Island, Australia, which experienced a wind gust of 253 miles per hour (113 m/s) on April 10, 1996, during Severe Tropical Cyclone Olivia.
At CPP, we understand how buildings and structures affect wind patterns. We use this knowledge to help you protect the outdoor experiences of people walking or lounging near the building. Whether you're a building owner, an architect, an engineer, or a developer, you have a stake in the success of your building. Contact CPP and let our talented team and years of experience ensure that your next project doesn't blow away.