Are you wasting energy with your large laboratory exhaust fans? Most facility owners answer yes. The majority of lab exhaust fans waste energy due to outdated control strategies or overly conservative designs. By accurately modeling the exhaust, a safe and efficient design can be determined, often saving at least 15% of your entire building electrical energy load resulting in less than 2-year paybacks.
Over the last 15 years, CPP has pioneered the use of VAV to optimize more than 300 lab exhaust systems throughout the world for organizations such as the University of California (Berkeley, Davis, San Francisco, Santa Barbara), US EPA, and the National Renewable Energy Laboratory. These optimization projects have resulted in the cumulative reduction of 150,000 tons of CO2 into the atmosphere and energy savings of over 225 gigawatt hours.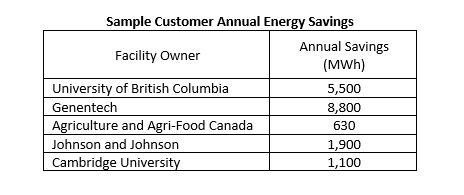 Join CPP's 3-part webinar series for an in-depth review and learn how you can reduce your carbon footprint, and take advantage of potential energy savings at your facility. Our first webinar on Fan Optimization features CPP Wind's Brad Cochran. He will focus on an Overview of Variable Air Volume Exhaust Control Strategies
Fan Optimization Webinar #1: Major Laboratory Energy Savings from Advanced Exhaust Control Optimized for Wind, Safety, and Resiliency
Dates: April 13th and April 15th
This webinar will focus on:
– Efficient Design of Laboratory Exhaust Systems
– Exploration of advanced wind dependent control strategies
– Identification of the best VAV control system for your lab
– Safety and resiliency benefits of VAV control
– How to obtain your no cost feasibility assessment to calculate potential energy savings
To attend, register here
Follow-up webinars will be available for design engineers, facilities, maintenance, and EH&S personnel to delve into the details. Dates to be announced.
Webinar Topic #2: Design of safe and efficient exhaust systems, including advanced wind tunnel modeling methodology and control strategy optimization.
Webinar Topic #3: Implementation, commissioning/validation, and realization of the energy savings and resiliency potential.
If you would like more information on Laboratory Fan Energy Optimization, please e-mail: marketing@cppwind.com.
About Your Presenter
CPP Principal and technical expert Brad C. Cochran will bring to each webinar his 25 years of experience conducting wind tunnel, analytical, and Computational Fluid Dynamic modeling for laboratory, hospital, and Data Center ventilation design.
For more information about CPP and the history of wind engineering, click here to visit our blog.