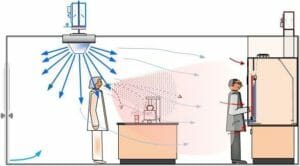 Diagram of laboratory with ventilation system that maximizes dilution and removal of
contaminant to reduce exposure dose. (Figure Courtesy of 3Flow)
On November 12th, 2020, ASHRAE published its Laboratory Guidance Document — part of its Epidemic Task Force — outlining mitigation strategies regarding the transmission of COVID-19, unique to the laboratory environment.
The American Society of Heating, Refrigerating and Air-Conditioning Engineers (ASHRAE) is an American professional association seeking to advance heating, ventilation, air conditioning and refrigeration systems design and construction. ASHRAE has more than 57,000 members in more than 132 countries worldwide.
CPP Wind Principal and Director of Air Quality Services, Brad Cochran, chaired the subcommittee responsible for creating the document, working with highly knowledgeable laboratory designers over several months to ensure the resource's completion.
"My role was to keep half a dozen or so highly knowledgeable laboratory designers focused for four or five months, and to get this document put together and posted before the vaccines took full effect," said Cochran.
From the Laboratory Guidance Document:
"Initially, the laboratory environment was considered low risk for aerosol transmission because these facilities are already designed with the safety of occupants as a key performance indictor; typically through the use of 100% outside air (i.e., no recirculation) supply systems, higher air change rates, and exhaust systems designed to minimize re-entrainment of contaminated air. However, these same systems provide unique operating conditions that require distinct mitigation strategies to minimize the risk of transmission of aerosolized particles. Several recommended mitigation strategies that may be prudent for other building types should not be employed in a lab environment because they may adversely impact the air flow patterns within the lab and/or the performance of existing containment devices."
Read the full Laboratory Guidance Document by clicking here.
To ensure your laboratory is designed safely and efficiently, contact CPP Wind today.
About Brad C. Cochran: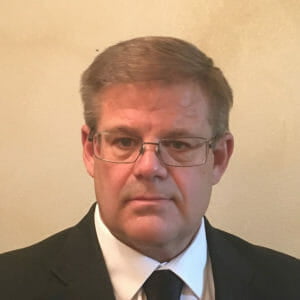 Brad C. Cochran has over 25 years of experience conducting wind tunnel, analytical, and Computational Fluid Dynamic (CFD) modeling studies for laboratory, hospital, and data center ventilation design. He holds a BS and MS in mechanical engineering, an MBA, and a PE license (CO).
Brad's many clients include Harvard, NIH, University of Texas Medical Center, Loyola University, Genentech, and the University of California. He was a key developer of the EPA-accepted Equivalent Building Dimensions concept, which makes generic dispersion models more site-specific.
Brad is available for questions or ideas via these channels:
For more information about CPP and the history of wind engineering, click here to visit our blog.