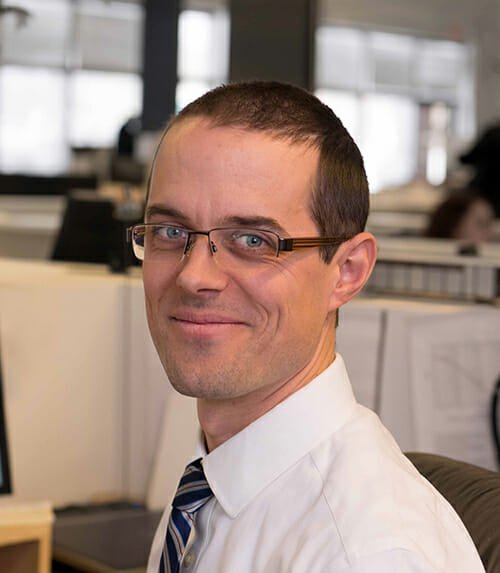 CPP is proud to announce that Yarrow Fewless has been promoted to Principal!
Yarrow completed his degree in mechanical engineering in 2002 at the University of Wisconsin. In early 2005, he joined CPP as a wind tunnel technician, quickly learning the hands-on details of running scale-model wind tunnel tests for a wide variety of projects. After working closely with Dr. David Banks to develop the innovative CPP Probe for pedestrian-level wind measurements, Yarrow formally joined the engineering team in the Structural Services group. He spent the next several years working on projects that assessed structural wind loads, cladding pressures, and pedestrian wind comfort. During this time, Yarrow also played a key role in the design of CPP's newest wind tunnel.
As a member of the Structures team, Yarrow took every available opportunity to work with Dr. Daryl Boggs on wind-sensitive defense and aerospace projects (such as space launch vehicles exposed to the wind while sitting on the launch pad prior to launch). These unique—and typically ITAR/export-controlled —projects pose special testing and analysis challenges that Yarrow found particularly interesting.
In 2012, he joined the Solar Services team, led by Dr. David Banks. For the next four years, Yarrow helped develop and hone the testing and analysis methods that have led the industry in accurately assessing the wind's effects on solar arrays. He also provided vital technical knowledge for WindLab®-Solar, an online software service that gives CPP clients customized wind loading information for their rooftop solar arrays.
Recently, in addition to his solar team contributions, Yarrow has been the primary leader for commercial space projects, acting as both project manager and senior engineer for projects that test launch vehicles and related structures. Because of the increasing focus on commercial space travel and the companies involved in that industry, CPP recognized Yarrow as the obvious choice to lead our aerospace services. He will continue to provide senior-level support for our structural and solar projects and head all of our aerospace services.
For years of technical contributions, client-focused service, and overall professional leadership, we give our heartfelt congratulations to Yarrow Fewless, CPP Principal, for this well-deserved promotion!